Nattramn formed this industrial ambient project in 1995 and recorded one demo in Ljungby roughly a year after it´s birth. HAL released "Ödelagt" on compact disc in 2012 and the limited run of 300 copies sold out immediately. "Ödelagt" consists of one 21 minute song recorded in Mono under rough circumstances. 20 earth years have passed and Trencadis remains relevant as the beginning of Nattramn´s artistic and spiritual journey.
The music could be described as watching over a cold desolate landscape while musically grounded in the sounds and atmospheres of artists such as early Mortiis and the ambient works of Burzum.
This is the tshirt design I made for a very limited edition of tshirts, so if you want to have one of these special items, you should act very fast.
ORDER HERE.
Thank you so much Roadburn festival for inviting me to be a part of "Art & Music: An Indelible Link" Art Panel, together with these 3 fantastic artists! Cool to be on the same size of Converge and Neurosis on a flyer :))) At least with that drawing :))
Official press release:
Art & Music: An Indelible Link
Owner of Season of Mist and Graphic Noise, Michael Berberian will be talking to a panel of highly regarded and critically acclaimed artists as they explore the link between the music and the artwork that represents it, in the form of album artwork, merchandise and poster art.
Does the music inform the artwork, or do they exist entirely as separate entities? Do our artists have requirements before agreeing to work with a band? We explore the creative process with Becky Cloonan, Arik Roper, Costin Chioreanu, and Kim Holm.
Roadburn Festival takes place between 14 – 17 April 2016 at the 013 venue, in Tilburg, The Netherlands.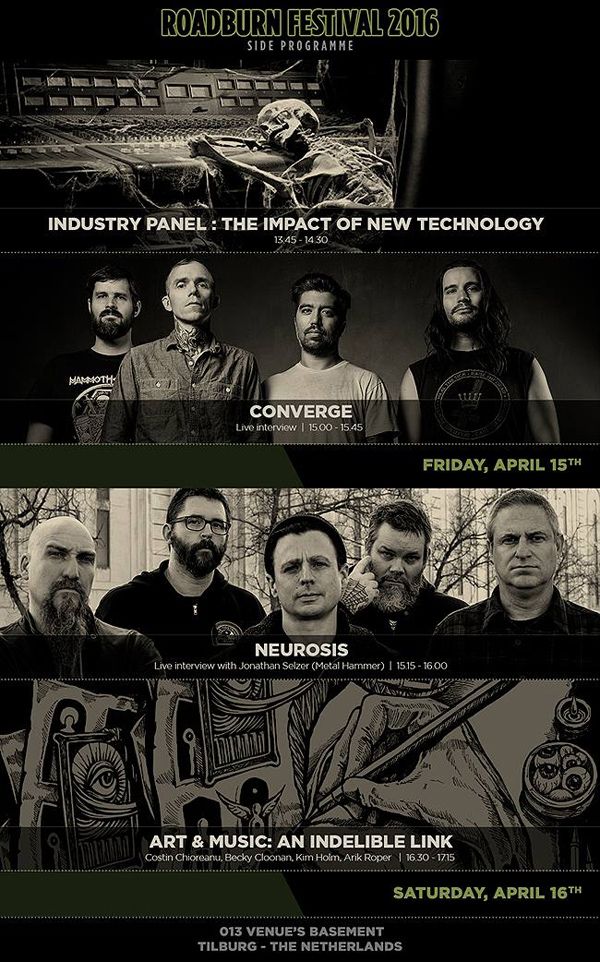 We could stay and simply enjoy London and concerts and we could enjoy obviously way more sleep, but being serious metal fans we considered this is a very important moment which needs to be recorded. So…with some zombie hands I am typing now: here it it, a 12 minutes documentary I did with Gina about Enslaved's 25th anniversary at London by Norse. I am glad that Nuclear Blast promoted it, as it turned out pretty good, at least from the journalistic point of view. After all this heavy metal journalism got born…out of pure passion. Right? Enjoy! \m/
This video…turned out to be really personal story wise….for those who want to see….
SPIRITUAL BEGGARS – Dark Light Child (OFFICIAL VIDEO). Taken from the album "Sunrise To Sundown". Inside Out Music 2016.
Get "Sunrise To Sundown" in its various physical formats from the IOM webshop HERE.
A bundle version with a special shirt can be obtained from EMP here:
CD + Shirt
LP-Shirt
This was a very special moment – the amazing reception at the Norwegian ambassador's residence in London. It was a huge honor for a die hard fan of the northern culture to be invited at such intimate gathering… Strangely (?) I felt like home around many of these old and new friends. To see and hear Einar Selvik playing few verses from Völuspá, on his lyre was beyond ……….. Thank you very much for this Simon Füllemann and Marius Bakke.