This is the new video made for my band, Bloodway. This time, is only about the story. And the story was so important for us that we went 1500 km to reach these locations for filming. I know nowadays everything (or more straight: "success" ?! – what the hell means that?!) is "based" on the way you present things. Even since Academy Of Arts I was told that the way you put it is more important than what you put outhere. Well, I never enjoyed to do this, strangely and mostly when it comes to the most important projects I've made. I feel there is totally retard for me to stand and explain "somehow smart" what I did there. Maybe I over consumed my energy for doing it? And each of you has a particular an unique perception of things and in order to reach the core of the information I am transmitting through my channel, you need no influence from my side. Only then is just you and the information, alone, in the infinite chamber of your mind. And only then my information can have a sense. From an Universal relaxed point of view, as long as we are doing things accordingly totally to our hearts and instincts, I guess we don't need PR AT ALL:)))
Story and video by Costin Chioreanu
Characters: Crina Cristina Marian, Alexandra Victoria Dragu, Ghita Alexandru Adrian
Filmed by Costin Chioreanu, Gina Sandulescu, Ghita Alexandru Adrian
Make up by Gina Sandulescu
"Mirror Twins" is the second single from the album "Mapping The Moment With The Logic Of Dreams", to be released by I,voidhanger records on 25th of September 2015.
The album will be released as a ltd jewel case CD with 20-page booklet, fully illustrated and complete with lyrics.
Preorders available HERE
Follow Bloodway:
https://www.facebook.com/bloodways
https://bloodway.bandcamp.com/
Anders Björler released an old demo he wrote prior to the ANTIKYTHERA album in 2013 and I was super happy to illustrate it. Strangely, as in case of the debut album, this time the creation process was magic as well, and I really love so much the result!
Remixed by Tue Madsen.
Handmade illustration / mixed media.
01. PRECOGNITION
02. DREAMING OF INSOMNIA – feat. Anders Gabrielson
Available digitally on Spotify, Itunes, Google Play, Amazon & 100s of more platforms.
So, here is another artwork related to the Norwegian prog scene. This time is about the first piece of a series made under the name "Crimson Nights". The first edition is featuring Krakow, Seven Impale and Shaman Elephant. I guess the next editions will be presented by the same Propulsion & Revelations music and the venue will remain the same – the legendary Garage from Bergen. Enjoy!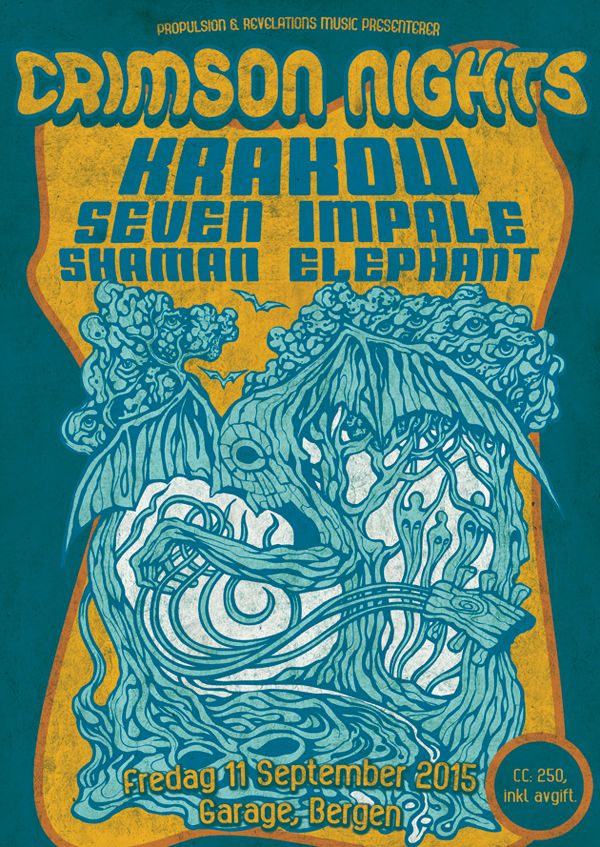 This is an illustration I like so much. It was made for Rendezvous Point – "Solar Storm" front cover. Album will be released on Karisma Records on the 2nd October.
Check out the band HERE.
"With musicians who first met when they were studying music at the University of Agder, and who have gone on to play in some of the top bands in Norway, RENDEZVOUS POINT's lineup includes Geirmund Hansen on vocals, Baard Kolstad on drums (LEPROUS, BORKNAGAR, ICS VORTEX), Petter Hallaråker on guitar (ICS VORTEX, SOLEFALD), Nicolai Tangen Svennæs on keyboards (EMILIE NICOLAS) and Gunn-Hilde Erstad on bass. Many will, in fact, recognise Hansen from his appearance on the Norwegian edition of The Voice." Text by Patricia Thomas
I am super happy about this collaboration. Of course, because is about Napalm Death, one of my childhood sonic heroes, still hunting my players nowadays as well…but also because this project is so personal. I have experienced on my own skin how a human obsessed / addicted to something can loose the whole attention to some aspects / persons / happenings around him…in his obsession for that "something". Please note this is not a video anti-alcohol or anti-drugs. The bottle here is a metaphor. There can be obsession for work, for money, for drugs, for many other things.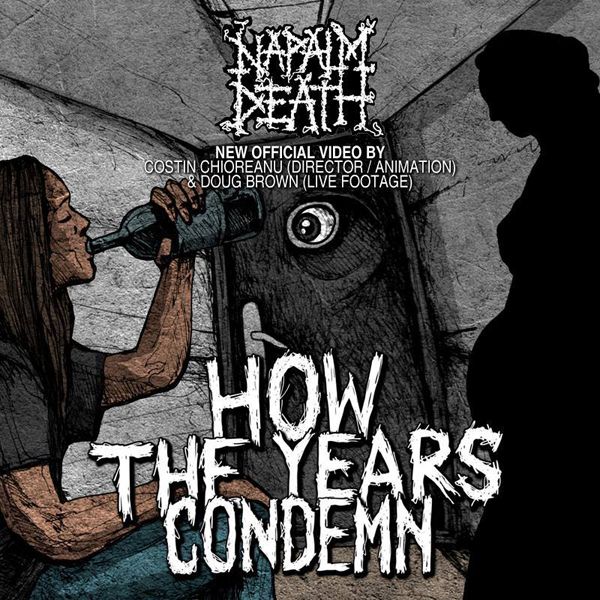 "Subject-wise I think this is one of the more open-ended of the tracks that we have in the sense that everybody has their own ideas toward living a vibrant and fulfilling life. To me, Costin expertly captured some elements that can be detrimental to that and keep us in a bubble: becoming progressively stupefied by television / mass media… leaving unnecessary burdens upon another person sharing life with us… only seeing an altered perspective through the bottom of a bottle or suchlike. Don't misunderstand, this is not an anti-alcohol / intoxicant song – as some might conclude – but more to understand that any form of stimulant that controls us rather us controlling it (from TV to drugs and many things inbetween) really can impair and reduce the quality of life that is possible for our finite time on earth." – Mark 'Barney' Greenway
"How The Years Condemn" I guess is a term that's used for many reasons – for me I first heard it from a guy who later became a friend of mine in a hospital bed next to me 3 years ago, as we passed the time talking about why we had both ended up there! It was at that point and then the following 6 days afterwards that I said to myself that enough was finally enough! I thought about how lucky I was to be doing what I had always dreamed of doing, and in doing so, the awesome people, friends and loved ones that I had met and who now accompany me on this strange journey called life. To my loved ones I realised I had been selfish and it was time for a change, a realisation that we are not invincible nor are we indestructible." – Shane Embury
You can order the new Napalm Death album, "Apex Predator", in different editions HERE.