It's been almost two weeks now, since the tragedy which killed and critically hospitalised many friends, clients, collaborators people I knew.At this moment… there are 50 dead people while many others are in hospitals in critical condition and sadly, that number of dead people is rising daily…so by the time you read this, some information may already be out of date.
I decided to help these people, as are all close to my heart, on all possible channels, so, because I received so much international support I decided to release this compilation, entitled "The Quest For A Morning Star". All proceeds from the sales will be donated to help with medical bills and funeral expenses of those who have been affected by the fire.
I want to thank all the great musicians who have taken part in these soundtracks Rune Eriksen, David Tibet, Attila Csihar, Mirai Kawashima, Kimmo Helen, Adrei Ionut and Tudor Diaconescu – for their immediate response and support in making this compilation possible and available for fundraising. The love and support that's out there in the international metal scene is unbelievable. I want to thank everybody who has helped out, from the bottom of my heart. As for the music, I started to create this music back in 2011, for a personal project, not directly related to metal music/artwork. When working on this type of project, I like to include the audible space as well as the visual in my work. So, all this music is extremely personal to me, and many of these soundtracks have never been released before. The spirituality of the works makes it feel quite natural for them to be released for a humanitarian purpose like this.
SHORT STORY OF EVENTS : On October 30, local band, Goodbye to Gravity were celebrating the release of their second album at the nightclub when the tragedy occurred. The fire has already claimed the lives of 50 victims, but that number is rising daily, with more than one hundred further people in hospital, many in critical conditions. In a tight knit rock/metal community the shockwaves have been massive; musicians, fans, photographers, engineers, security have all become victims of this terrible tragedy.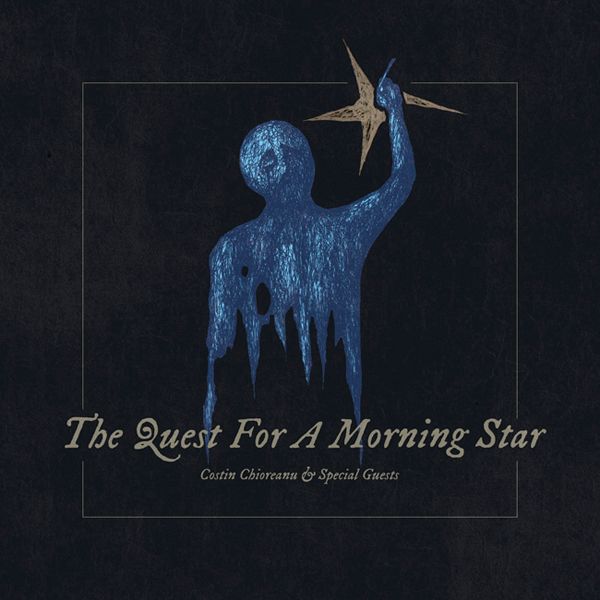 COMPILATION AVAILABLE HERE: https://costinchioreanu.bandcamp.com/releases
Chapter I – Soundtrack for "Where Purgatory Ends" exhibition 2011
Music composed by Costin Chioreanu and Rune Eriksen (Blasphemer – Aura Noir, Twilight Of The Gods)
Mixed by Costin Chioreanu
Mastered by Marius Costache
Line-up:
Costin Chioreanu – guitar, fx,piano
Rune Eriksen – guitar, fx, percussion, piano
Andrei Ionut – bass
Tudor Diaconescu – violin

1. Absent Abstract Above
2. An Empire Beneath Oblivion
3. Phanthasma And The Midnight Stalker
Chapter II – Soundtrack for "Too Late For rainbows" exhibition 2012
Music composed, recorded, mixed and mastered by Costin Chioreanu (guitar, bass, fx)
4. Ihwaz
Chapter III – Soundtrack for "There Are No Shadows On Our Maps" exhibition 2012
Music composed, recorded, mixed and mastered by Costin Chioreanu (guitar, bass, fx)
5. A Storm Shall Take The Words Away
Chapter IV – Soundtrack for "Outside The Great Circle" art movie 2013
Music composed by Costin Chioreanu
Lyrics by Costin Chioreanu & David Tibet
Mixed by Costin Chioreanu
Mastered by Attila Csihar
Line-up:
Attila Csihar (Mayhem) – vox
David Tibet – vox
Mirai Kawashima (Sigh) – keyboards
Kimmo Helen (Hexvessel) – violin, fx
Costin Chioreanu – guitar, fx
6. Outside The Great Circle
Chapter V – Soundtrack for "Magic As A Golden Mean Soundtrack" presentation movie 2015
Music composed, recorded, mixed and mastered by Costin Chioreanu (guitar, fx)
7.Portals
This is the new video made for my band, Bloodway. This time, is only about the story. And the story was so important for us that we went 1500 km to reach these locations for filming. I know nowadays everything (or more straight: "success" ?! – what the hell means that?!) is "based" on the way you present things. Even since Academy Of Arts I was told that the way you put it is more important than what you put outhere. Well, I never enjoyed to do this, strangely and mostly when it comes to the most important projects I've made. I feel there is totally retard for me to stand and explain "somehow smart" what I did there. Maybe I over consumed my energy for doing it? And each of you has a particular an unique perception of things and in order to reach the core of the information I am transmitting through my channel, you need no influence from my side. Only then is just you and the information, alone, in the infinite chamber of your mind. And only then my information can have a sense. From an Universal relaxed point of view, as long as we are doing things accordingly totally to our hearts and instincts, I guess we don't need PR AT ALL:)))
Story and video by Costin Chioreanu
Characters: Crina Cristina Marian, Alexandra Victoria Dragu, Ghita Alexandru Adrian
Filmed by Costin Chioreanu, Gina Sandulescu, Ghita Alexandru Adrian
Make up by Gina Sandulescu
"Mirror Twins" is the second single from the album "Mapping The Moment With The Logic Of Dreams", to be released by I,voidhanger records on 25th of September 2015.
The album will be released as a ltd jewel case CD with 20-page booklet, fully illustrated and complete with lyrics.
Preorders available HERE
Follow Bloodway:
https://www.facebook.com/bloodways
https://bloodway.bandcamp.com/
Anders Björler released an old demo he wrote prior to the ANTIKYTHERA album in 2013 and I was super happy to illustrate it. Strangely, as in case of the debut album, this time the creation process was magic as well, and I really love so much the result!
Remixed by Tue Madsen.
Handmade illustration / mixed media.
01. PRECOGNITION
02. DREAMING OF INSOMNIA – feat. Anders Gabrielson
Available digitally on Spotify, Itunes, Google Play, Amazon & 100s of more platforms.
So, here is another artwork related to the Norwegian prog scene. This time is about the first piece of a series made under the name "Crimson Nights". The first edition is featuring Krakow, Seven Impale and Shaman Elephant. I guess the next editions will be presented by the same Propulsion & Revelations music and the venue will remain the same – the legendary Garage from Bergen. Enjoy!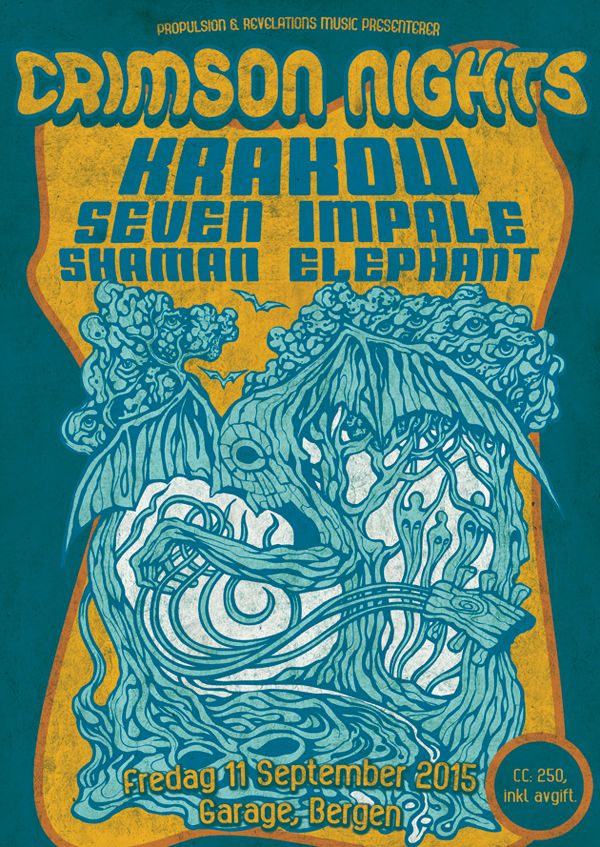 This is an illustration I like so much. It was made for Rendezvous Point – "Solar Storm" front cover. Album will be released on Karisma Records on the 2nd October.
Check out the band HERE.
"With musicians who first met when they were studying music at the University of Agder, and who have gone on to play in some of the top bands in Norway, RENDEZVOUS POINT's lineup includes Geirmund Hansen on vocals, Baard Kolstad on drums (LEPROUS, BORKNAGAR, ICS VORTEX), Petter Hallaråker on guitar (ICS VORTEX, SOLEFALD), Nicolai Tangen Svennæs on keyboards (EMILIE NICOLAS) and Gunn-Hilde Erstad on bass. Many will, in fact, recognise Hansen from his appearance on the Norwegian edition of The Voice." Text by Patricia Thomas