expo
EXHIBITIONS AND ART RELATED PROJECTS OF COSTIN CHIOREANU (in updating process)
(Newest first)

"The Clay Is People" (2013)
5 Art Poster series, happening – worldwide premiere October 25th | Garage | Bergen | Norway
This project, containing happening and art poster exhibition was part of a more bigger event in Bergen, prepared together by Vultures Industries and Happy Gorilla Dance Company , under the name of "Turning Golem". The exhibition was entitled "The Clay Is People!" and it had a very strong connection to the "Turning Golem" project as also with the new Vulture Industries opus, "The Tower". The main story is about how a man can turn into a "golem" just because of the sick society around him. This man's soul is "swallowed" by an made-out-of-clay Frankenstein (a new extra body which keeps both soul and mind in darkness and into a complete state of paralysis where knowledge is futile, as long as it's not related to any material world or human measuring systems). The clay itself is born out of senseless words and evil crafted consciously or unconsciously by people around, through their cruel ways of ascending the society pyramid, at all possible levels, by despair, fear, lies and hate.
"To present an art exhibition in a pub from Bergen, at the same time with a heavy metal concert can be one of the most hardcore experience for a visual artist. Lately I could "see" better my condition. I am felling more like a messenger than everything else I thought I actually was. This is my path, this is my role. At least, this is what I think at this moment. Once I realized that, I took the decision of combining this time the exhibition part with happening, so I went into the streets of Bergen with some prints of the posters from exhibition and I randomly exposed them into the town, that everyone who was crossing these places to see them. After all, all these pieces are a combination of propaganda, protest and revolt.
Another aspect I was interested to test with the "Bergen Experiment" (a personal nickname I gave to this project) was that people do not tend anymore to discover things. They just wait for somebody to come and explain to them why they should be interested in "that thing", why "that thing is so cool". After that the humanoid is doing nothing more but analyze his/her mental needs, and if the "offer" satisfying one or more "needs", he/she "takes" it. If not, the humanoid is not interested. So this is like a strange system of creating / exchanging fake impressions? I guess the needs are real, even I am not sure about their causes, how real are. But I can be sure about this: how people really like or do not like things, in this system, is just a big hoax. In the end all we have is a commercial exchange between the one that needs and the one who apparently creates antidotes for these needs, anticipating reactions of potentially subjects, measuring the public interest on chosen topic. I made "The Clay Is people" public in a bar, in a place where is not writing on the door "art", so that people can go immediately to that state of mind "dooh, now we gonna see some art dude, I guess will be interesting". See how mind is already set for that? There is always first a presentation , after that the minds of the subjects are set. That is how it works. I tried at my best to avoid that, to keep the place without any explanation. You will say "yeah man, but you had all this promo through Vulture Industries channels, internet, management, also you had video spots through internet about that, even 3 different models of posters which were exposed in the town , in the bar, you have 3000 people in your facebook list that could see your daily adds for this event…etc. You are tricking us here". No, I do not trick anyone. Yes, all these promotional things existed, as you can also see some of them listed here. But what you do not know is that a lot of people coming there where not related at all to metal, knowing me, knowing the band, give any attention to any promo posters on the window, more than half of the people from there where totally random people who entered in a pub to drink a coffee, to get wasted, or whatever. The experiment was mainly done for these. Of course was open to the rest as well, but on the rest of people the "project policy" was not applying, because they've been already "infested" with expectations and mind set." Also, I am sorry to say, but you must give more attention first to how people tend to "give" attention to a lot of things nowadays, before throw in my face any critic. And also please note the club have 2 levels – at the normal level was a bar open for everyone – where a lot of random people showed up, and in the cellar level was the place for the concert and also where all people who knew what to expect came there. So -actually this entire paragraph is about why I choose that pub, together with the organizers of this evening, as the main location for the exhibition.
"The Clay Is People!" must be first discovered, as the message is very extremely clear. I remember somebody came at the table in Bergen during exhibition and asked me "Cool man, but what's this about?" I told him "I think it's extremely obviously if you just read what is written there". Another person came at the same table, later that day and she told me "Hey, your drawings are so beautiful, why did you put these texts over them? The texts are keeping them connected to just one interpretation. If you didn't put these texts, maybe people would have some liberty.." I said to her: "Yes, you are perfectly right. I never used text before in my art. So is not something that is 100% in my vein , but is for sure, the exact thing I needed for this project. This project must have no space for interpretations, as I wanted to have a clear, sharp, and brutal message. And you know, actually the conclusions can be very beautiful, depends just on your mind, how is it set." I realized that I succeeded to combat any blurry interpretation, and that was very satisfying for me.
"Of course the arts are having a strong connection with Turning Golem concept and also with the Vulture Industries new release, "the Tower". The arts presents some points of view which combats the dogmatic system that turned all people's understanding exclusively to a commercial form. We are born in a world where everything we learned , all our knowledge and values are just pillars of commercial society, nothing more. Our mind is set from the first days of breathing , on praising dogmas. I want to go further, trying to go far beyond this state of mind during life time and what I am doing here is just an invitation for others. But this is the main thing, this is the highest thing I am "offering" here. If that invitation looks good as well, then fine, but the immaterial charge of experience , even for the viewer is a new discovery, a shock or just a confirmation of his/her own signs, path or search, that is the most valuable thing you are taking with you further."
PHOTOS FROM THE EXHIBITION / HAPPENING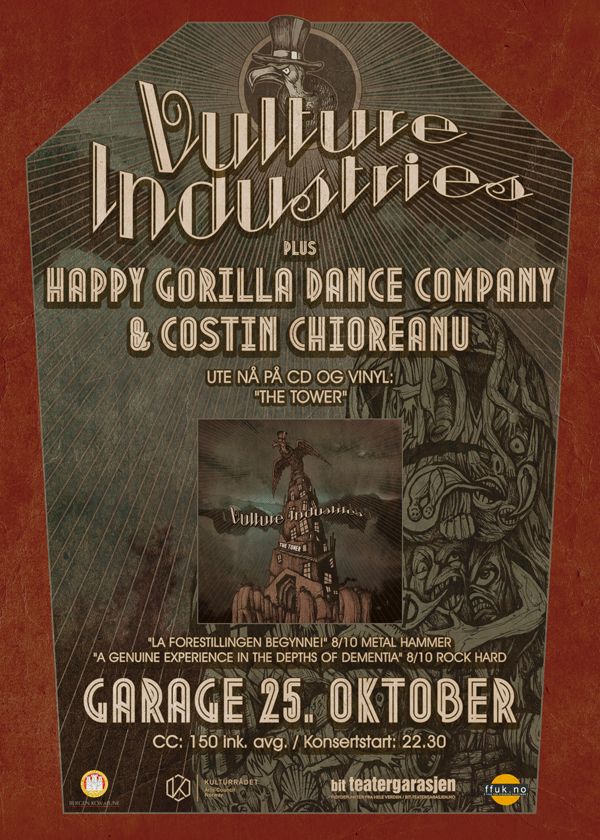 PROMO VIDEO

_____________________________________________________________________________________

"Lost Among Liars" (2013)
Animation movie – worldwide premiere at Kortkino Film Festival November 2013 – Sandnes / Norway
"Lost Among Liars", the video for a track from "The Tower, the new album from Norwegian Avant-garde Metallers VULTURE INDUSTRIES, will be featured at this year's Kort and Kortkino Film Festival, which specialises in short films and which will take place from the 14th to the 17th November in Sandnes, Norway. The theme of the Festival for this year is "Sound", and "Lost Among Liars" will be included in the programme on Thursday the 14th, along with a video from fellow Norwegian's KVELERTAK. More information about the Kort and Kortkino Film Festival can be found at http://www.kortkino.no/kinokino/public/openIndex?ARTICLE_ID=5050
Romanian multi-media artist COSTIN CHIOREANU is the man behind the video, which is an animated surreal visual critique of today's society that takes us on a journey through a surreal cityscape populated by people and machines, each with their own different duties and functions. From the vagrant loser, to the dutiful cog in the wheel of industry, to the facade of family life, to the mask salesman, all of them leading us through a story of oppression, elevation of control, and freedom. Educated at the Bucharest National University of Arts, CHIOREANU has made his mark as a stage artist, musician, animator and movie maker, who, despite his relatively young age, has created the cover art for musicians such as ULVER, ISHAHN, ARCTURUS, AURA NOIR and DARKTHRONE, as well as VULTURE INDUSTRIES themselves. He is the official artist for the Roadburn Festival 2014, and has been the driving force behind book and album launches.
Text by Patricia Thomas – Band Management.
"Lost Among Liars" screenshot on the cover of Kortkino Film Festival!

Details about "Lost Among Liars" video and it's visual and audio producers inside Kortkino Film Festival's booklet.

_____________________________________________________________________________________

"Outside The Great Circle" (2013)
Animation movie – worldwide premiere at Roadburn Festival April 2013 – Tilburg / Holland
Outside The Great Circle is my new film and also my first animation movie. For the first time in my career, I channeled my affinity with three separate mediums into a single work. Merging music, illustration and film, this movie invites the viewer to ignore traditional structures and genre restrictions and submit to the experience of the moment completely.
A work of visual art of this magnitude required equally massive music. For the soundtrack, which was composed by me on guitar, I enlisted the help of some formidable musicians: Attila Csihar and David Tibet on vocals, Mirai Kawashima (Sigh) on keyboards and synths, and Kimmo Helen (Hexvessel) on violin and effects.
All of the people gathered on this record were chosen for a very specific reason: no one else would do. Without even one of them, this soundtrack would be rendered an eyeless Mona Lisa, lacking a crucial element of enigmatic power. Attila has his unique dark voice and the ability to give the music a foundation of incredible depth, enhancing the spiritual side of music on frequencies usually left unused. David Tibet has his high timbre – charismatic, apocalyptic, angelic with an irresistible aristocratic edge. Mirai Kawashima brings a startling darkness using instruments such as his keys and Rhodes, proving once again that an open-minded Japanese metalhead playing avant-garde black metal is something special! And last but by no means least, Kimmo Helen. This polyvalent musician from Finland brings his wildly creative and experimental violin skills and unique perspective. The soundtrack was mixed by me and mastered by Attila Csihar.
At times, Outside The Great Circle may call to mind Alejandro Jodorowsky's violently surreal art, and the swift punch in the face of contemporary society and values is reminiscent of Jan Svankmajer's art. More than anything, however, surrealism is the means to an end as opposed to the end itself. Not a single pixel of this film is absurd for absurdity's sake. Every droplet, every brick, and every leaf carries profound significance, thus allowing an entire story to be told in just 13:13 minutes.
Official Roadburn Festival announcement:
http://www.roadburn.com/2013/03/roadburn-cinema-costin-chioreanus-outside-the-great-circle/
OFFICIAL TRAILER


"Seriously this is the most insane movie I have ever seen" – Mirai Kawashima
COMPLETE MOVIE HD

LINKS:
http://www.copticcat.com/news/439/57/Costin-Chioreanu-film-featuring-myself-Attila-Mirai-and-Kimmo

http://www.roadburn.com/2013/04/video-premiere-outside-the-great-circle-by-costin-chioreanu/
_____________________________________________________________________________________

"The Five Phases Of Ioh" (2012)
Public exhibition, live painting and happening during Arktau Eos show – Club Fabrica – Bucharest – Romania
The exhibition is dedicated in the memory of my grandfather, Cornel Chioreanu, who died in the same night with this event.
These 5 arts are the 5 chapters of how I see and how I felt the music of "IOH-MAERA" album by Arktau Eos.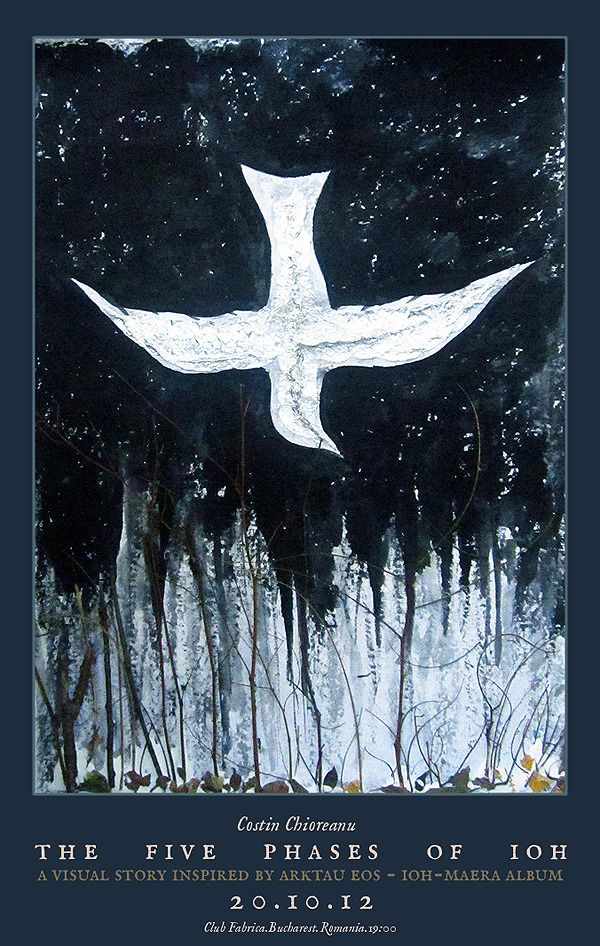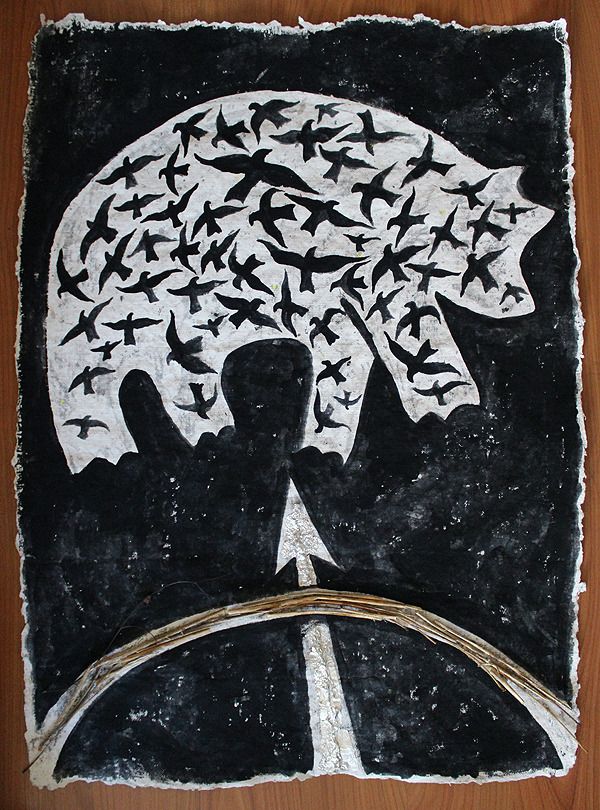 The Greatest Moment In Universe
The Arrival
A Vessel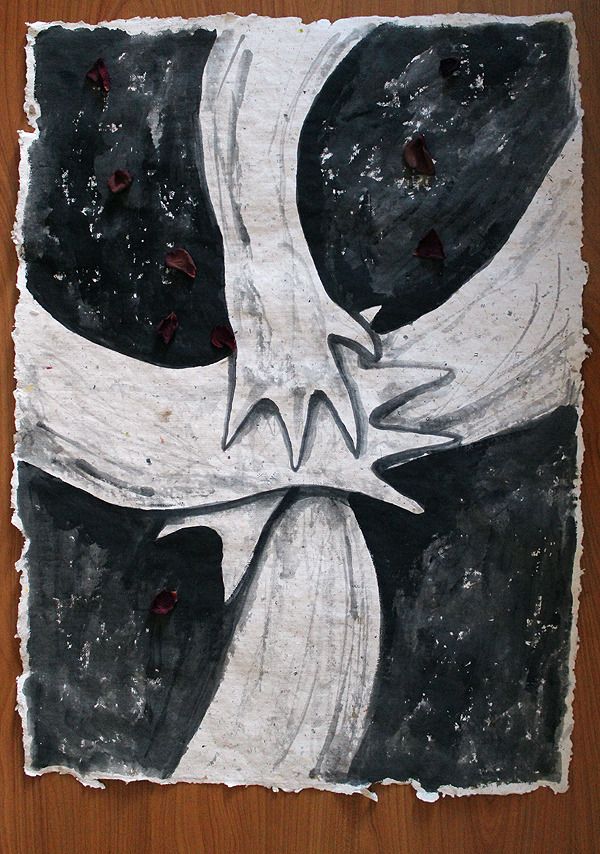 The World Of Flesh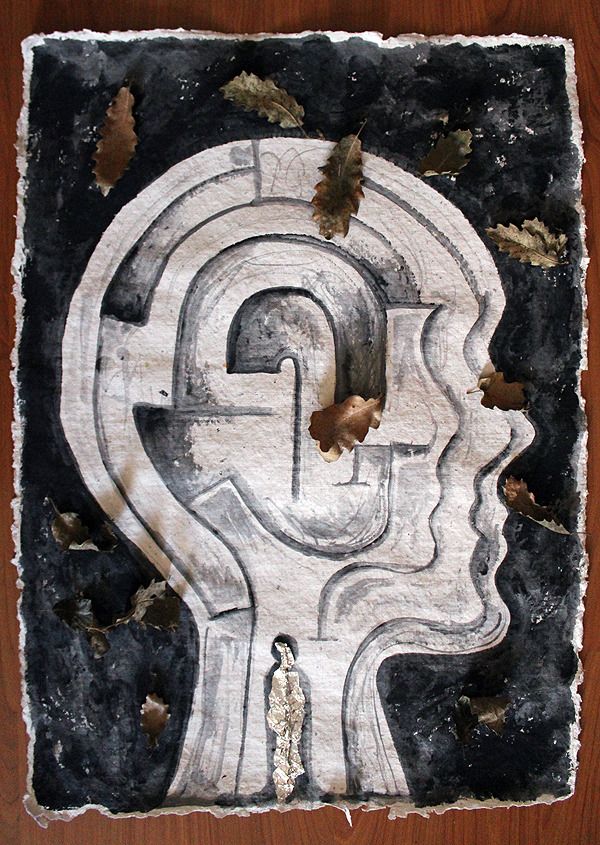 The Path, The Present
PROMO VIDEO:

_____________________________________________________________________________________

"There Are No Shadows On Our Maps" (2012)
Public exhibition in main Dark Bombastic Evening Venue – Alba Iulia – Transylvania – Romania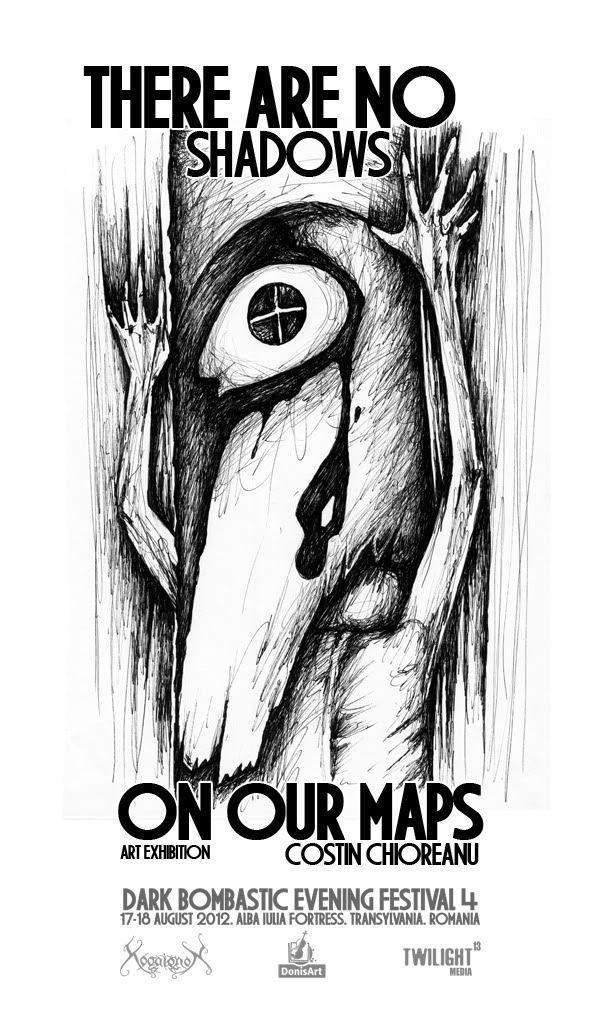 THE STORY
"For years I kept myself locked in a vault, in which and from which I licked past wounds, digging graves and mausoleums, more or less special, offerings to my senses, while, paradoxically, I was trying to change the world with what I did. I had to dissect myself and accept my crap. I saw that disgusting animal, born of hatred of those who crippled him, who wasn't thinking at all and was cutting into flesh when it wasn't the case when I saw beyond the curtain, and a soul destroyed by the need of foreign love of personal comfort.
So far I talked about my childhood in my work, about its death, about the disappointments people put me through, about opinions, about spirituality and how I see life after death … now a very difficult time came in which I dissect myself, the overwhelmed by the gray city and the unexpected human aggression."
"I got to know the world in a way that it did not like to be known, as I began to know myself in a way that I didn't like to know me. So I met masks as a glimpse of the great truth. It hurt, but was more than helpful in every way. I came to consider the words, the CV, even my name as something useless. They are only inventions of the world I was born in, they are just some files, some forms of identification and nothing more. It's not me. They are only indicators. Let this idea to easily infiltrate itself like an earwig to the eardrum and brain … let it penetrate your veins like a drug … let it reach your heart like poison…. and then wait in silence for the vision. You will see the worlds falling one after another, statues and monuments also slipping into nothingness like the last sad notes of a piano piece played flawlessly. And it's interesting when you see the whole creation of man to the ground, you will find that it no longer exists for you, but equally neither you for it.
The shadow is the real self, the pure one and unaltered by society. The map symbolizes the human intention of standardizing the world. In this case, the name is ironic: the shadows exist, but people, in order to live freely in society, marginalize them and avoid analyzing and understanding them. This is the story behind the name 'There Are no Shadows On Our Maps'. This is why I used 'ours'. I am also human and made many mistakes, I also lived in darkness, I also tried to be my own god at a certain point and to rebuild myself the way I wanted in that moment, only to drug myself with what I had at hand and to be able to let time pass without getting too many scratches. We all do that. However, this moment I reached now, is something that I dreamed of many, many years. Proof is that drawing that accompanied the name twilight13media for a long time, and still is on my site … that drawing below that says' Beyond the River of Darkness Grows The Light Of Love. "
COSTIN CHIOREANU
"When we are able to see our own shadow and to bear its knowledge, only then we just solved a small part of the task: we deleted at least the personal unconscious.
Meeting with one's self means first meeting with one's own shadow. The shadow is certainly a narrow pass, a narrow door, whose painful narrowness cannot be avoided by those who descend into deep wells. We must make acquaintance with ourselves to know who we are, because the gate was, surprisingly, a boundless expanse, of an unheard indeterminacy, where, apparently, there is no inside and out, up and down, here and there, mine and yours, good and evil. It is the water world in which everything alive floats, where the domain of the "sympathetic" soul begins, where I am not different from this and that, where I live the other in myself and the other lives as me."
CARL JUNG
_____________________________________________________________________________________
SOUNDTRACK
Composed during July 2012- August 2012
Recorded during August 2012
Mixed and mastered by Costin Chioreanu
_____________________________________________________________________________________
ARTWORKS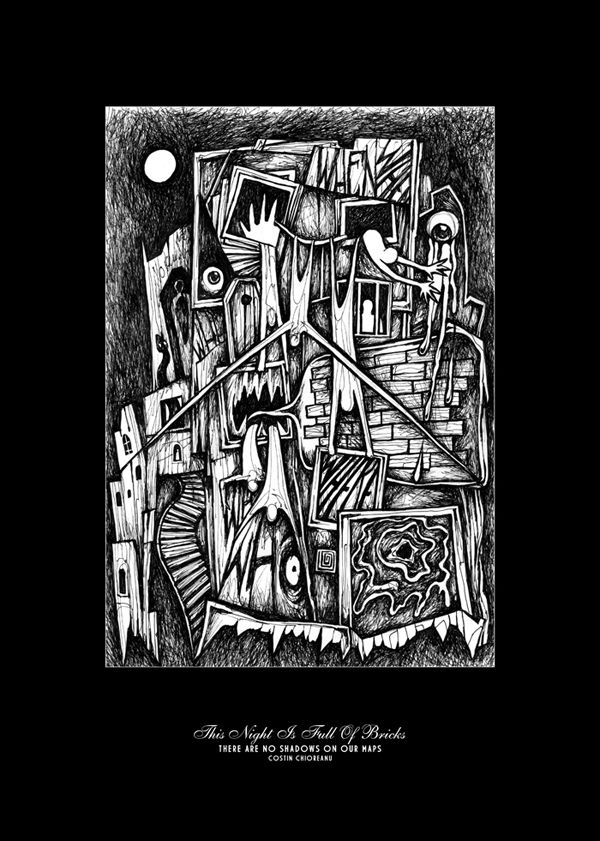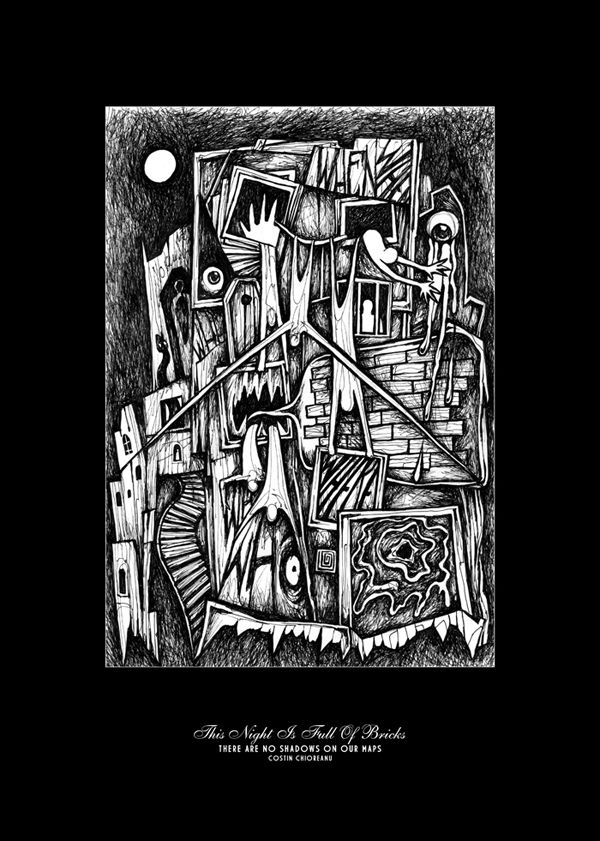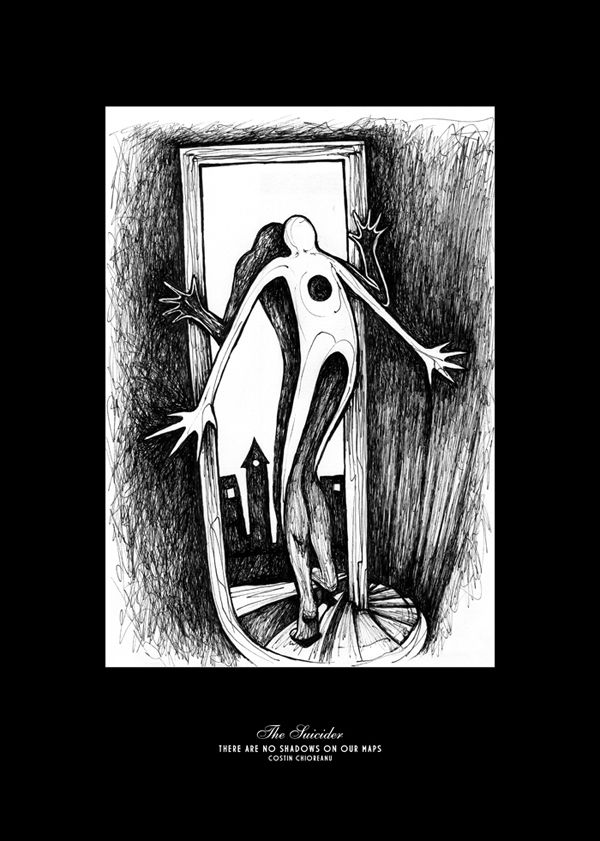 OFFICIAL VIDEO PROMO
………………………………………………………………………………………………………………………….

"Too Late For Rainbows" (2012)
Public exhibition in main Roadburn Festival Venue – 013 – Tilburg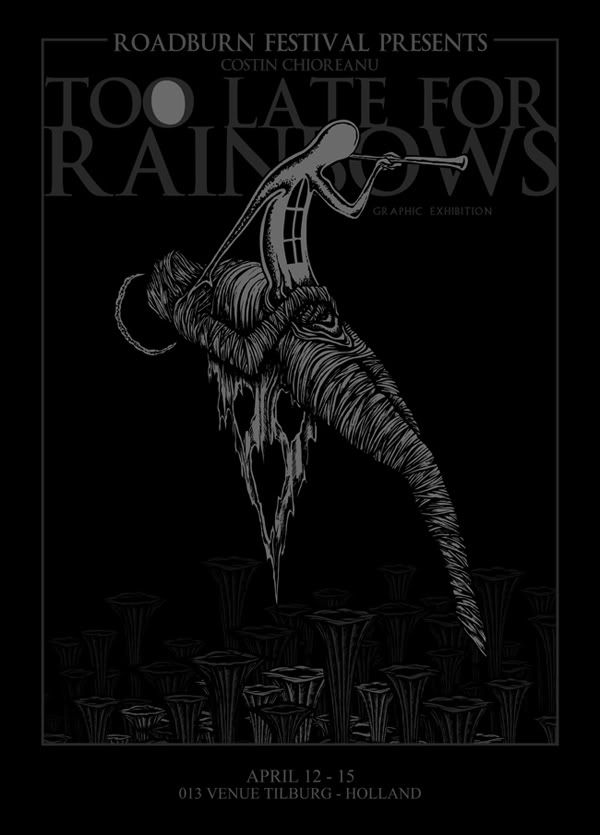 "This year's Roadburn Festival will include the world premiere of Romanian artist Costin Chioreanu's new exhibition Too Late for Rainbows. Following the success of his 2011 exhibition Where Purgatory Ends, a combination art show / musical performance / happening staged at various events in Alba Iulia (Transylvania), Helsinki, New York and Bucharest, it is Tilburg's turn to host the artist.
Unlike Where Purgatory Ends, which featured metaphorical reflections on daily life and transcendent childhood memories, Too Late for Rainbows deals with spiritual crimes that man has been plotting for thousands of years and is about to commit. While the artist is aware of the imminence of this process and its consequences, he also understands that the unseen world, almost gone from the conscience of man, will swiftly return."
Roadburn Festival introduction
The visual discourse is a graphical and metaphorical observation of the final moments of this spiritual apocalypse, for the unseen world and the bond it shares are the most important endangered species in man's world.
Cause (Riddle)
"I have been and always am with you, anywhere, even where your shadow
doesn't follow you, until you find me. I am hidden by you in many, in so
many that you even forgot the way to really look for me."
Effect
It the beginning there was the word.
And men described with words what was around them, creating pictures.
Pictures of the definable translated the indefinable.
So words turned empty and the empty end of rainbows filled the sky.
And now… now there is just noise.
In a world of carnal noise
Our time has come again,
Silent.
As many of you can hear our silence,
As many of you will step forward.
_____________________________________________________________________________________
SOUNDTRACK
"Too Late For Rainbows" Soundtrack was released by Asiluum Records under teh name of 13 – Ihwaz.
All Music was composed, recorded and mixed by Costin Chioreanu, mastered by Marius Costache.
"I don't even know what to call this release, or what kind of release it is. I don't think it's important, just like I don't think it's more important than its own existence.
Above all else, it's a piece of me, for which I dug into the deepest, darkest corners of my soul in order to drag it out. In those places, that even I didn't know were so bleak, I was carried by a river of disappointment, whose speed and power grew stronger the further I went in my search, both in and out, among people.
But is disappointment such a bad thing? Isn't it some sort of exorcism of deception? For now i'll stay with what it's been, and this song is the summary of the last months I've lived.
13 is not a name, 13 is not a band, 13 is me, finding myself in it. 13 is not what people that didn't know what I look like called me when writing my name down, along with alternatives. 13 doesn't play a certain genre, 13 is not a category, 13 is what I feel. I believe that man doesn't need names or categories, society needs them.
We are chaos, and words cannot define us, no matter how desperately we want it.
Dedicated to my forgotten brother, Bogdan "Tom" Groman. "
Costin Chioreanu declaration.
ARTWORKS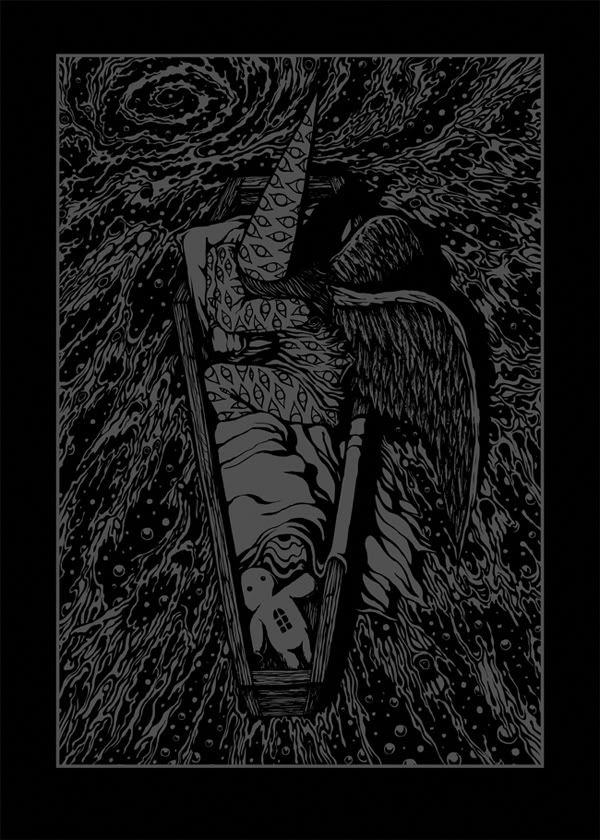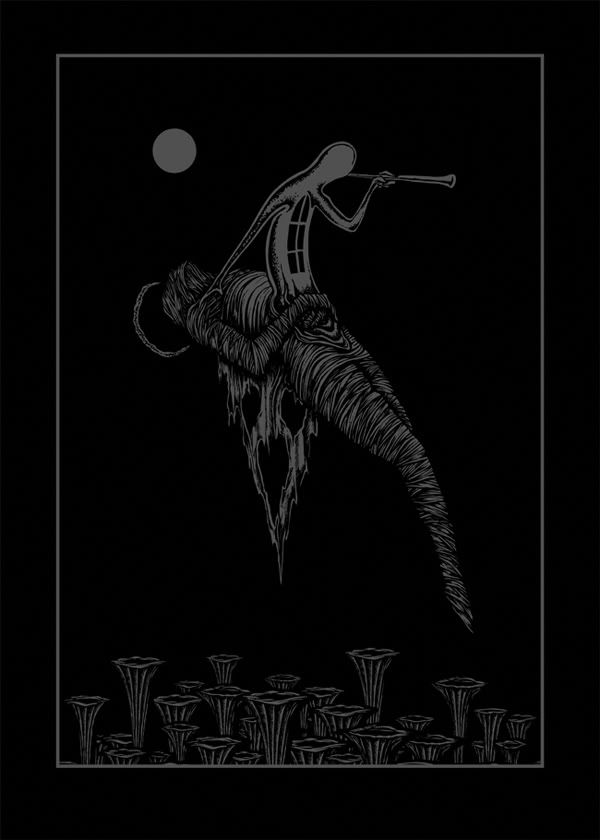 Pictures from the venue: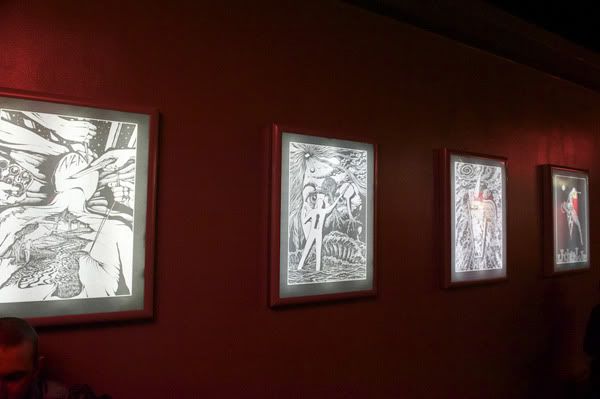 ………………………………………………………………………………………………………………………….

"Where Purgatory Ends" (2011-2012)
Public exhibitions in New York, Helsinki, Roadburn Festival (Tilburg), Alba Iulia, Bucharest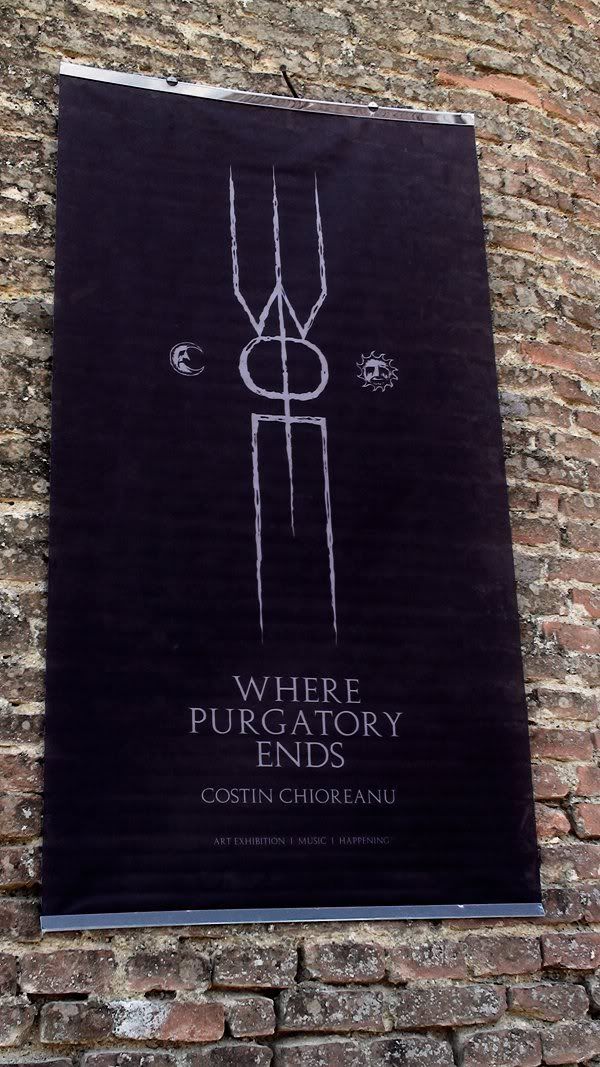 "Be what you will, you nameless Beyond –
as long as this self of mine
stays true to me … Be what you will,
as long as I can take my
Self with me. Externals are only the
varnish on a man: I am my own
Heaven and Hell."
Friedrich Schiller's –
"The Robbers" play (1781)
Where Purgatory Ends a dark visual and auditive story about the soul's adventure trough life
and afterlife, in it's way of becoming complete. The concept contains :
1.The art exhibition itself, which contains 13 artworks (90cm X 110 cm each),
printed with dark gray on black canvas.
2.Happening –
In the middle of exhibition's chamber is a large table with cookies made in the shape of the birds (as those from the artworks).
This way, you, the visitor will be able to make a connection between the world from the walls and your body.
3.Soundtrack. It is be played during the exhibition. It was composed
mainly by Costin Chioreanu and Rune Eriksen, together with Andrei Ionut – bass and
Tudor Diaconescu – violin.
The soundtrack is 22 minutes long and it's a dark avantgarde synthesis of diverse genres
including ambient, dark, doom metal and black metal.
_____________________________________________________________________________________
SOUNDTRACK
01.Absent Abstract Above
02.An Empire Beneath Oblivion
03.Phantasma And The Midnight Stalker
Composed during December 2010- April 2011
Recorded during March – June 2011
Mixed by Costin Chioreanu
Mastered by Marius Costache
WPE – Absent Abstract Above by twilight13media
WPE – An empire beneath oblivion by twilight13media
WPE – Phanthasma And The Midnight Stalker by twilight13media
Regarding WPE soundtrack, Rune Eriksen says:
"When I learned that Costin was planning a virtual exhibition, and were busy at work in
composing soundtrack to the great arts he is known for, I immediately offered my assistance
to help finalize the songs. Working and thinking 'outside the box' has always intrigued me,
so I was more than happy to collaborate on this instrumental adventure.
The sonic journeys that Costin managed to convey is truly of a unique and inspiring character,
so I am happy I could partake and add a bit of my crookedness to it also.
A trip beyond and below!"
Regarding WPE concept, Costin Chioreanu says:
"I have never reached the stars, nor did I ever exit the earth's atmosphere. I have never been
to the depths of the earth to see that it's made of dirt or reigned by another world, I have never
been thousands of meters deep to see if I can breathe,letting water invade my lungs. Almost
everything I know, I have been told. Certainties, be they growing or not, are close to me, the one
living under the cover of flesh and bone, the nameless, shape or serial number.
I see all life as a tiny part of a long journey.This journey has nothing to do with form or state of
matter, not even the borders that must be crossed, don't know if this is the way things are since
nobody around me can confirm my theories or dismiss them. All I know is that this thought makes
me what I am, and everyone around me is passionate, openly or not, about what is beyond death
or before life.
Some have found the answers easier, I chose to look for them further.
"Where purgatory ends" is an ironical title since I have no idea how the end of the road looks
like or if the road ever really ends.
It is with this thought that I hope the people that come see my works or listen to my music
will appreciate this artistic happening as a celebration of our journey in and towards becoming."
_____________________________________________________________________________________
ARTWORKS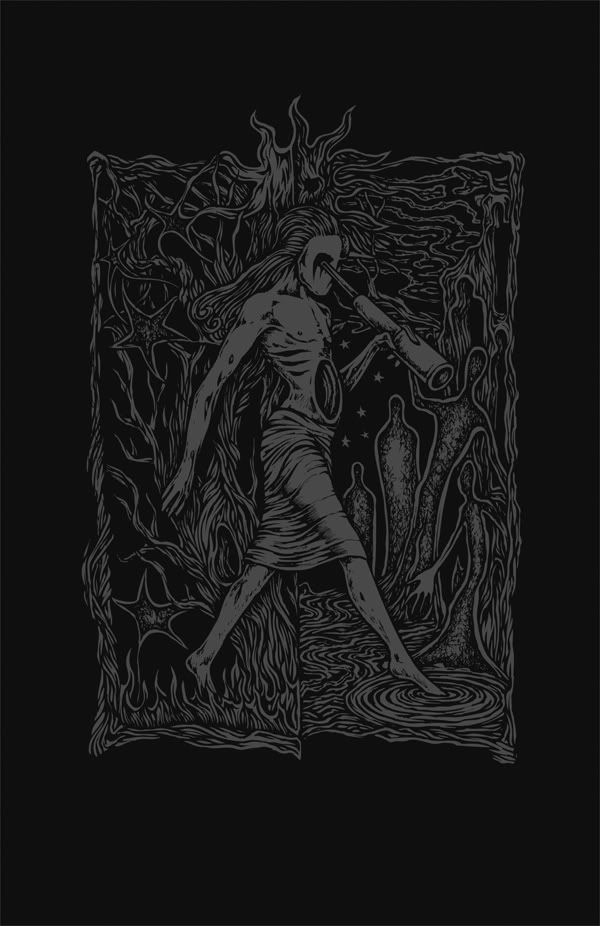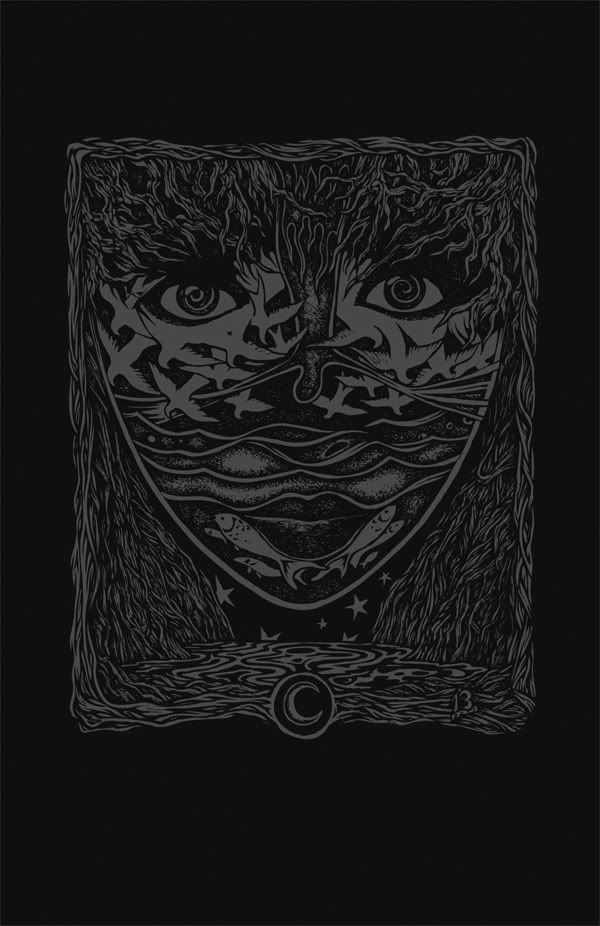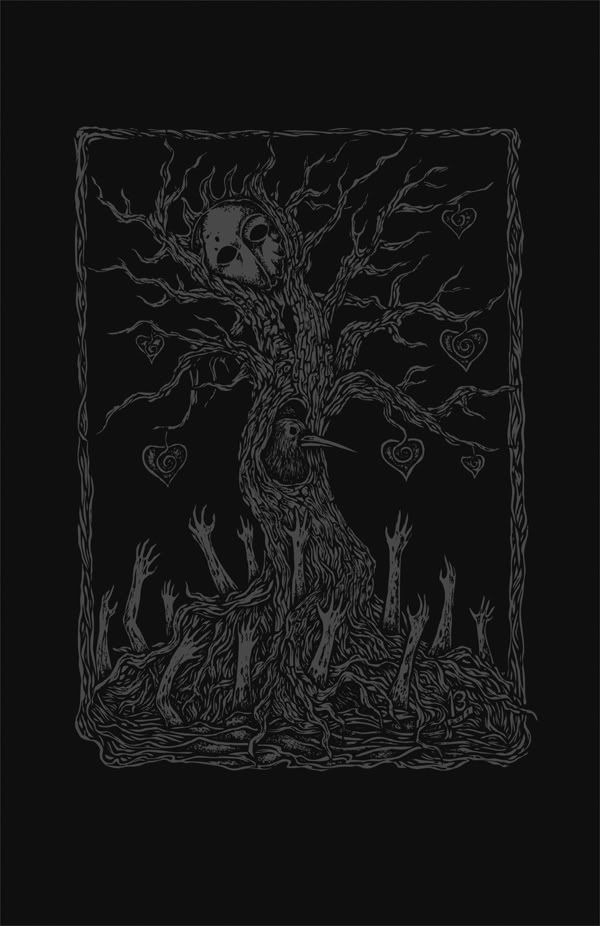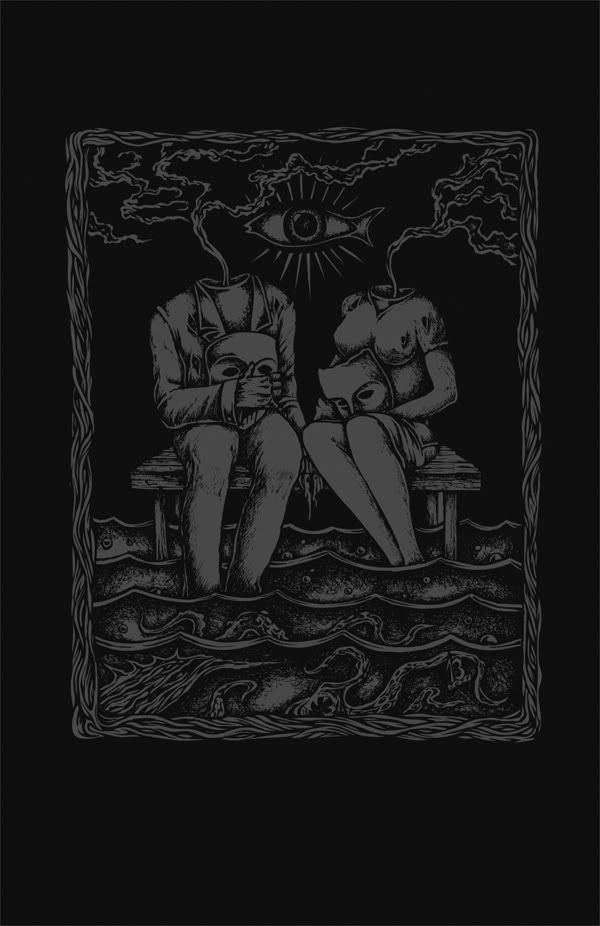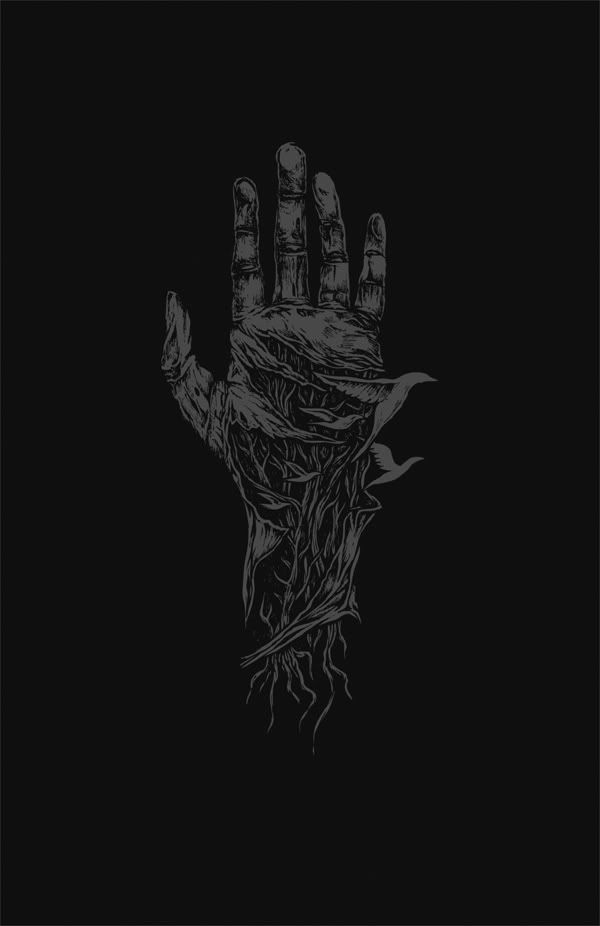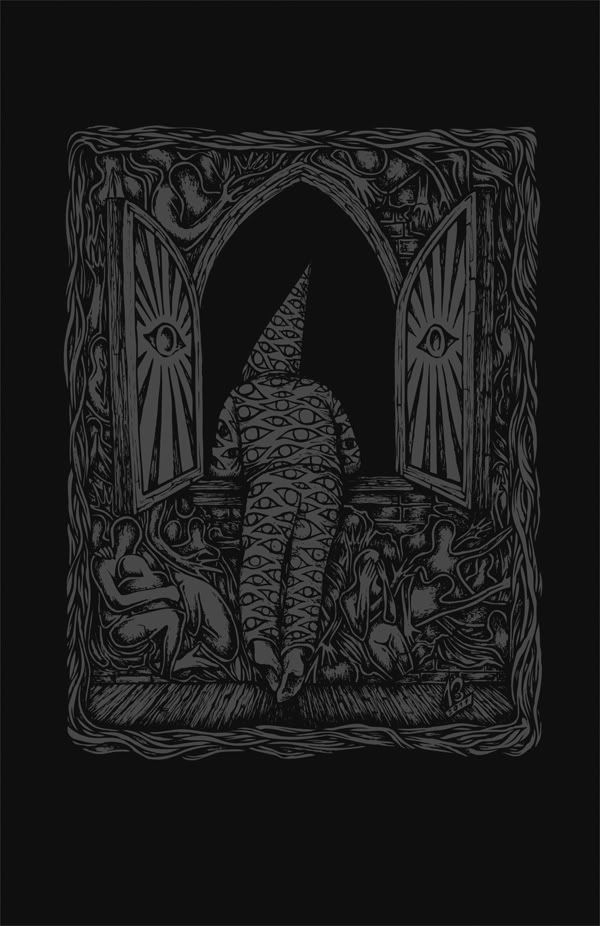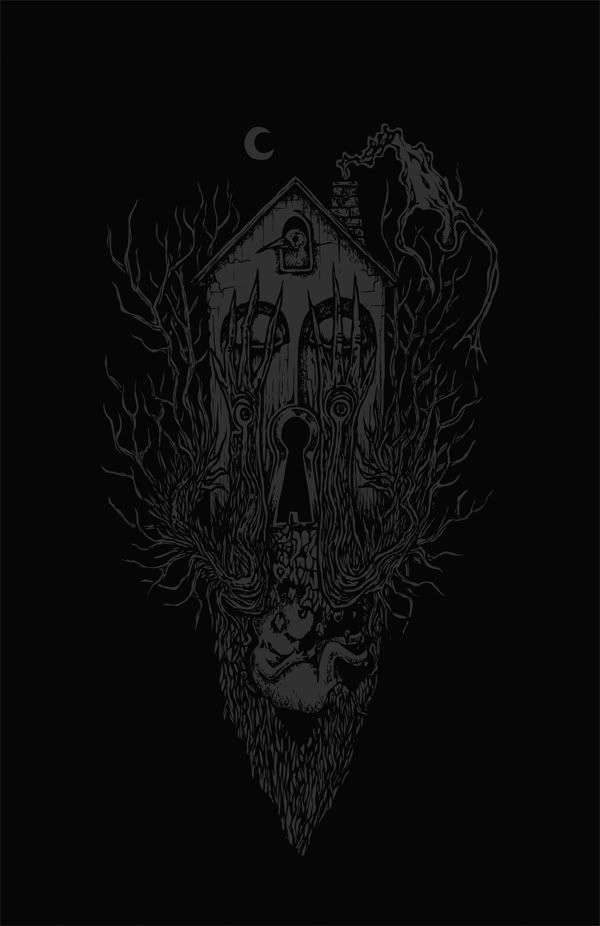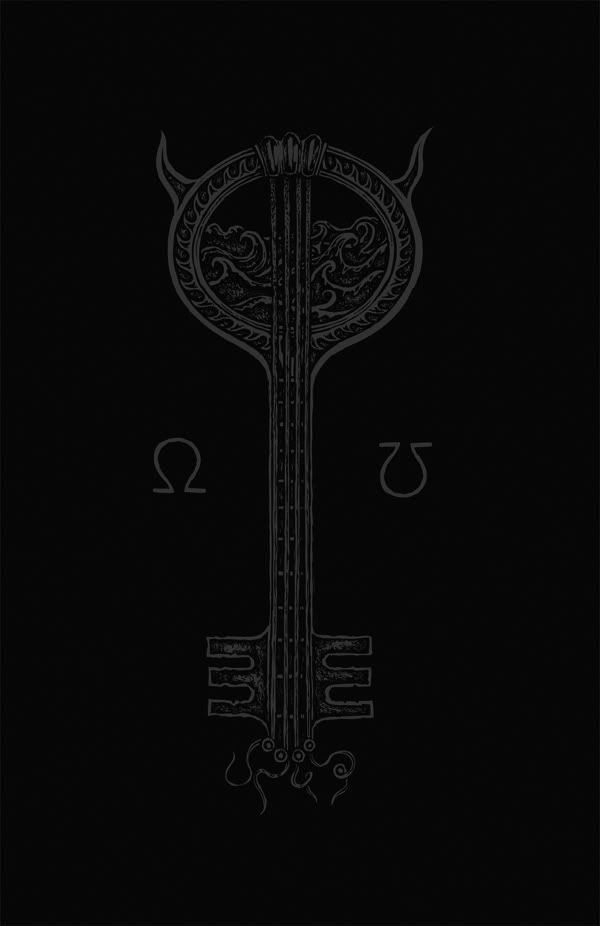 _____________________________________________________________________________________
EDITIONS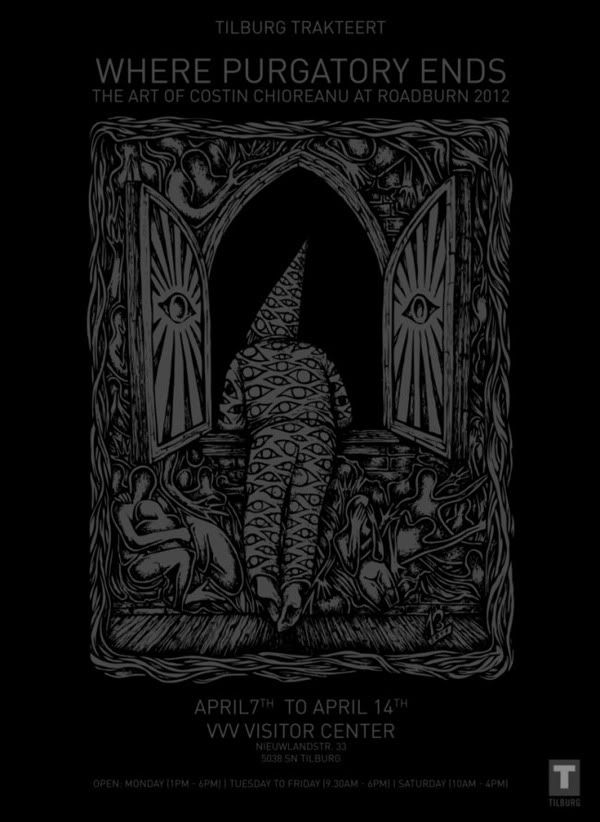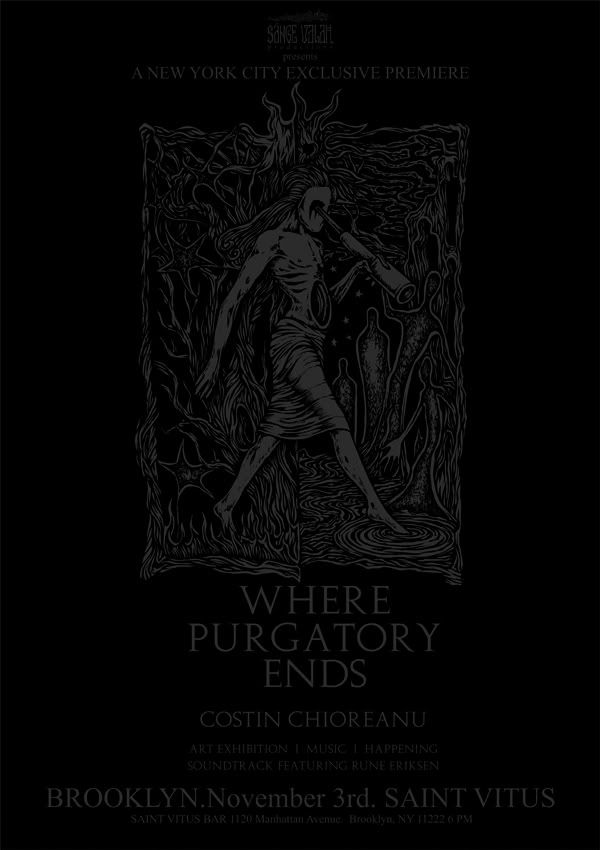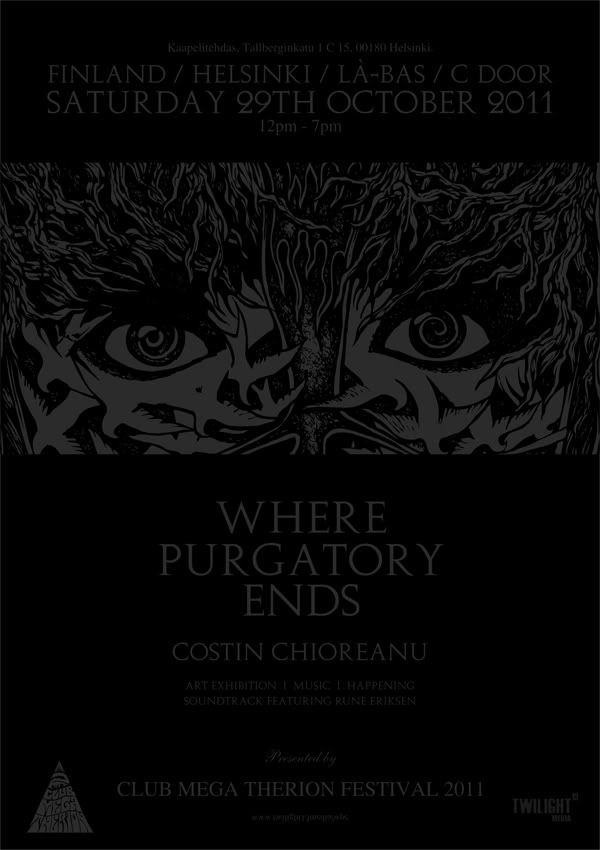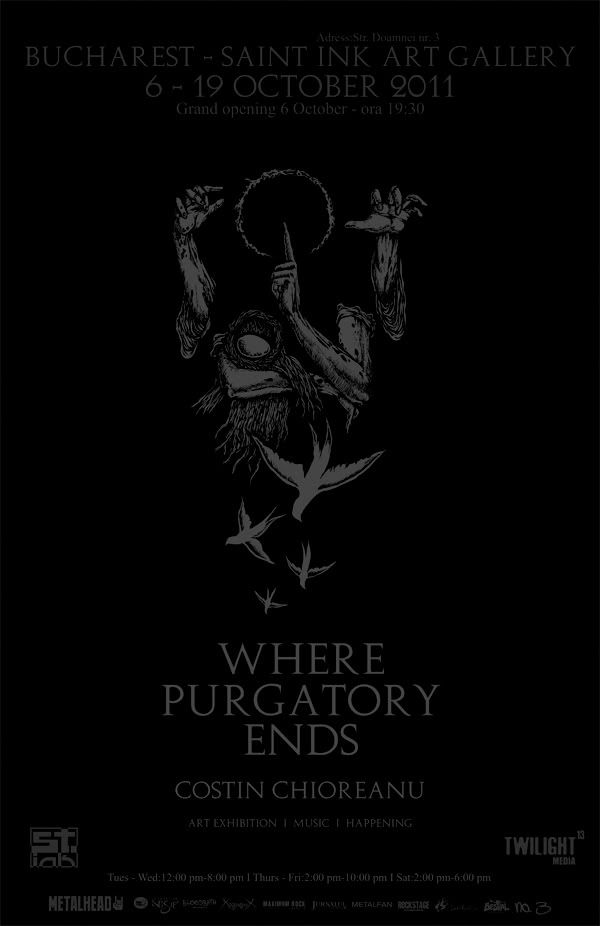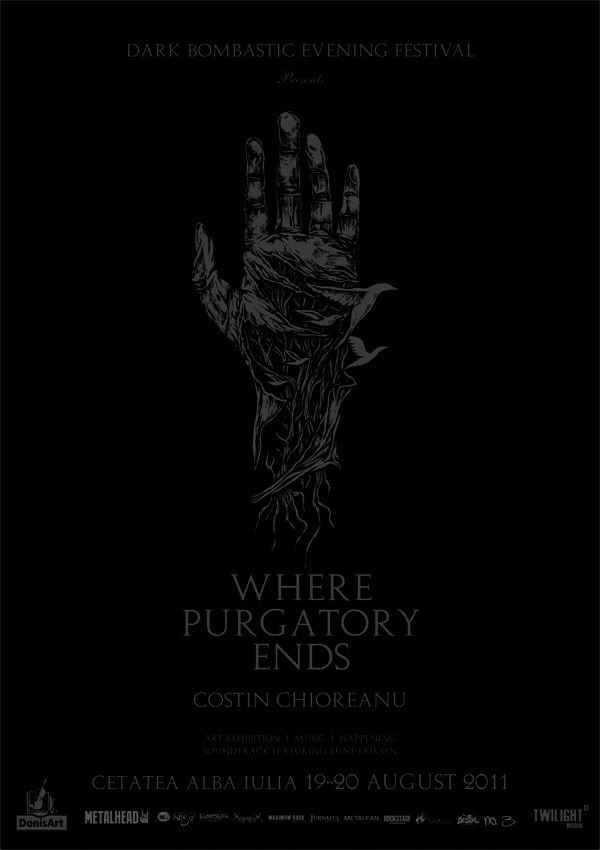 _____________________________________________________________________________________
PHOTOS from Roadburn Festival (SOON!)
_____________________________________________________________________________________
PHOTOS from New York Edition
_____________________________________________________________________________________
PHOTOS from Helsinki Edition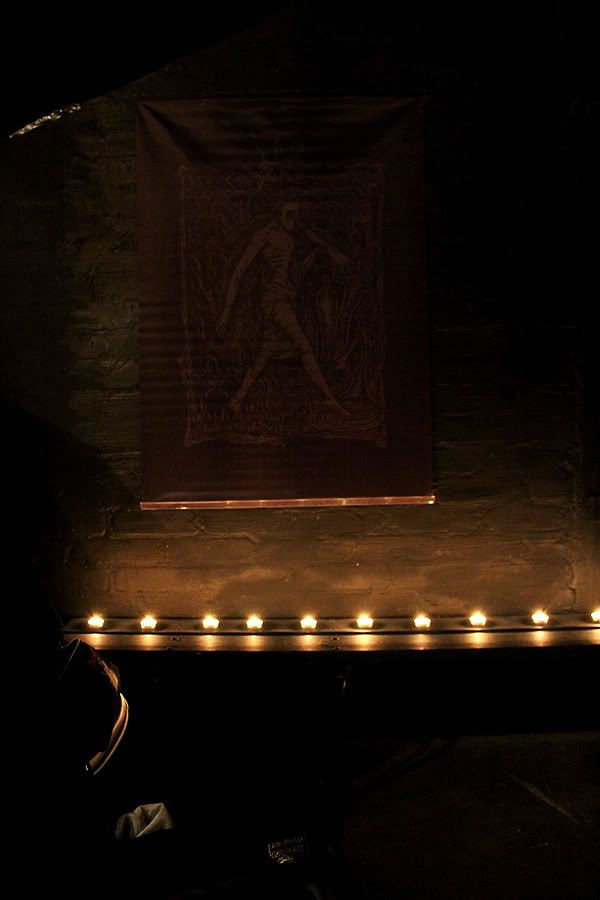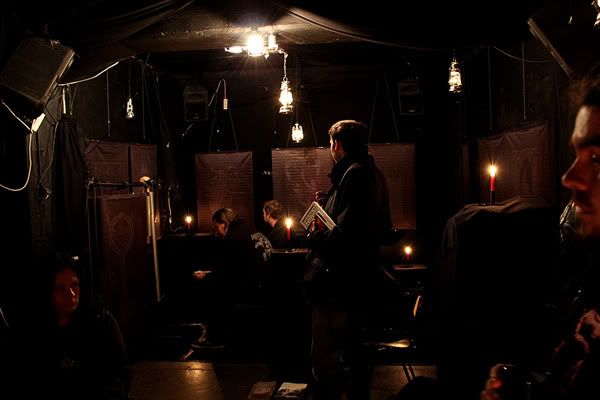 _____________________________________________________________________________________
PHOTOS from Bucharest Edition
_____________________________________________________________________________________
PHOTOS from Alba Iulia Edition

_____________________________________________________________________________________
OFFICIAL VIDEO PROMOS
Musk Ox | NYC @ St.Vitus | 03 Nov 2011 from (((unartig))) on Vimeo.
Daniel Menche | NYC @ St.Vitus | 03 Nov 2011 from (((unartig))) on Vimeo.
Ocrilim | NYC @ St.Vitus | 03 Nov 2011 from (((unartig))) on Vimeo.
Kevin Hufnagel | NYC @ St.Vitus | 03 Nov 2011 from (((unartig))) on Vimeo.
_____________________________________________________________________________________
PRESS EXTRAS
ROADBURN FESTIVAL:
http://www.roadburn.com/2011/10/of-stardust-where-purgatory-ends-new-york-city-premiere-on-november-3rd/
METAL.DE:
http://www.metal.de/black-metal/special/costin-chioreanu/47877-where-purgatory-ends/
BROOKLYN VEGAN:
http://www.brooklynvegan.com/archives/2011/11/of_stardust_eve.html
JURNALUL NATIONAL:
http://www.jurnalul.ro/arte-vizuale/purgatoriul-lui-chioreanu-la-helsinki-si-new-york-594904.htm
SINGE VALAH:
http://singevalah.blogspot.com/
METALHEAD:
http://www.metalhead.ro/metalhead/stiri-metalhead/expozitia-where-purgatory-ends–costin-chioreanu–ajunge-la-bucuresti-aid-106071-l-1
METALFAN:
http://www.metalfan.ro/stiri-rock/expozitia-where-purgatory-ends-in-helsinki-finlanda-spot-video-10451.html