In a cold winter night in the darkest place from Bucharest I did a very nice jam session with my dear friend Florian Toyka(drummer of Valborg ). Thank you Ioonut Loraac for filming this great memory. No rehearsals before , everything is happening / made in real time. I am not that kind of guy and honestly I consider rehearsing for a jam session the most retarded thing ever. Enjoy, there are 13 minutes of almost no-repeated riffs, so might be interesting…
I am so happy to present you the new collaboration with By Norse and Enslaved! It is about another huge event of 3 days in a row, which will celebrate the amazing career of this Norwegian legend! For "Oslo By Norse" I created a main poster and 3 different others, which are illustrating a different musical era of Enslaved. The artworks are exclusive made for this, in order to make everything truly special. ByNorse, known as a "platform for art, music, literature, film and culture", will host an installment of events throughout December 6th to 8th at BLÅ Oslo, presented together with Metal Hammer Norway. These happenings are designed to support and celebrate Norwegian art, music, literature, film and culture, even within its own borders!
Oslo By Norse will also serve as a celebration of our 25 years anniversary with live performances of music form our entire career divided into three special shows supported by special guests Obliteration, Virus and Maraton, and as a platform for workshops on ancient Norse instruments and music with Einar Selvik of Wardruna.
Tickets will be on sale from Monday Oct. 17th, purchase HERE.
More information about Oslo By Norse HERE.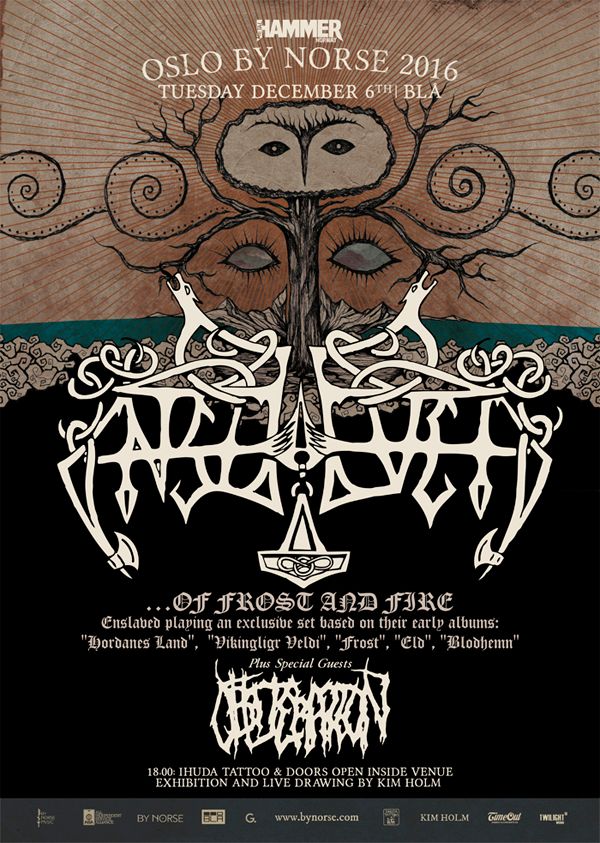 This live video recording means so much for me (please note this is a live recording, not the official video which was released a while ago for "Dragons Of The North", even both were filmed during same show). I remained with such amazing memories from Karmøygeddon festival 2016! For me to work this amazing band is inspiring me at so many levels, first of all because is not just a band, is a brotherhood of very cool people and very talented musicians, who really know how to praise friendship, a value almost completely lost in my country. It is such a beautiful experience to share moments with people like them who are true to their music and beliefs and I feel like home when I am going to Haugesund (even more friendly home than…the place I live, just because the amazingly people from there. Well ok, also the landscapes, wild cats and the silence during the night. Ah, yeah, and the home made cider!!!). Einherjer is a great example of how a metal band should be and this video which I filmed together with my dear friend Andrei Ionut it is an amazing proof of the way they sound live in 2016. Check out also their new amazingly talented 20 years old lead guitarist Ole Sønstabø, making some legendary solos in this video. So basically Ole has same age with this song! If your heart is metal, then check out this video, I am sure you gonna love the new version of "Dreamstorm". \m/ Thank you guys, for all these amazingly adventures over the last years!
Pre-order CD/LP
Digital pre-orders
Here is a picture of me together with my friends of Einherjer, in the same place (National Monument, Haugesund, Norway) where the original band photo of "Dragons Of The North" was taken. Who the hell could imagine back in the days I will experience such an honor 20 years later?!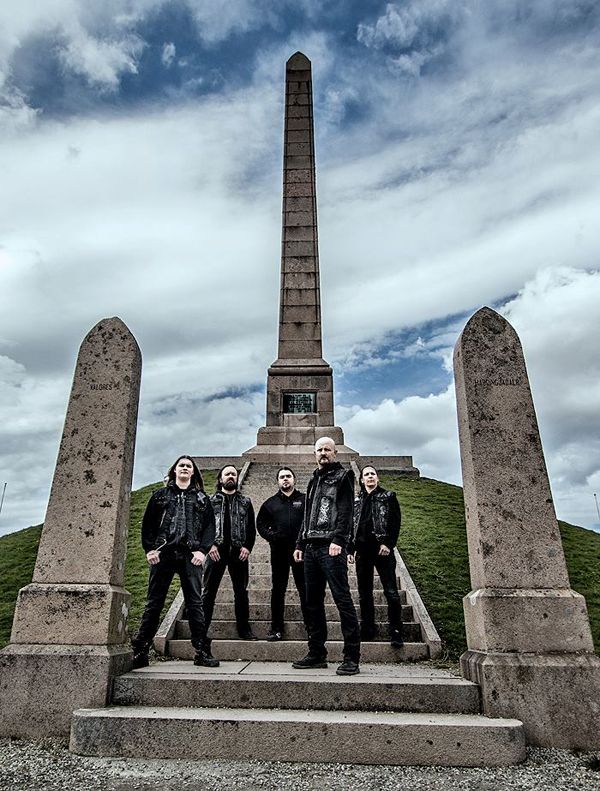 Finally I can share this great memory with all of you! It took a while to get it done, because we want to have also the sound processed as its best and we are super thankful to Marius Costache of Studio148 for the amazing result! We were blessed to play this show in Club Control (actually we couldn't experience this great opportunity of playing in the best club from Bucharest at this moment concerning PA and live sound facilities without the great Guest), where not many metal bands are playing, so of course we want top thank our booking agent as well for this! To cut it short: you have here 25 minutes of our special show "The Iron Temple", filmed in 5 cameras. The movie contains 4 songs plus one of the key role interludes (the one recorded exclusively for this event by Carmen Susana Simoes ( Earth Electric, Moonspell ) Carmen, we would like to thank you so much for putting so much passion and your amazing talent into this!!! The show could not be complete without the hard work of Andrei Tudorache, our stage designer, who really made something outstanding for us!!!!!!!!!! the end I would like to thank to the whole technical crew, while mentioning all credits:
Sound by Marius Costache
Filmed by: Andrei Ionut George, Bogdan Pavaloi, Alexandra Dragu & Vlad Bara
VJ : Gina Sandulescu
Stage Design: Andrei Tudorache
Lights: Silviu Badea
FOH: Serban Ilicevici
Edited and Produced by Costin Chioreanu
I want to share with you a great memory! This was filmed / recorded on January 7, the same day when me and my band Bloodway composed and recorded together with Valborg the song "Karbon Winter". This video captures the moment of pre-production, when I was building with Valborg guys the main structure of the song. The other Bloodway members, Alex And Mihai joined the gang right after, to record the song as the final version.